evi rüsseler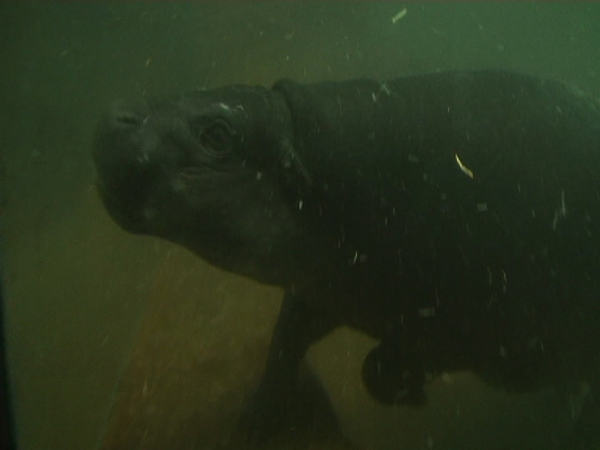 Evi Rüsseler: Hippo Narcissus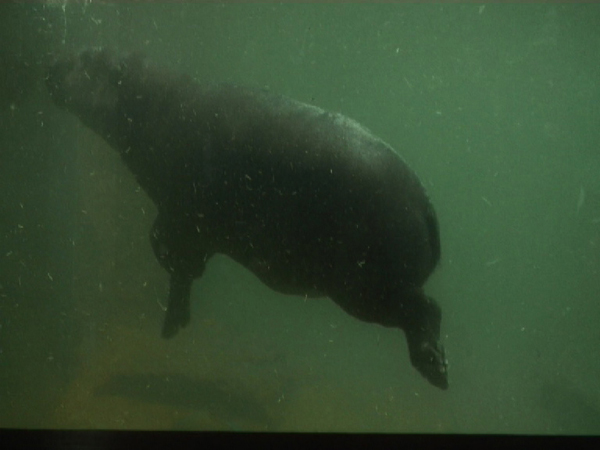 Evi Rüsseler: Hippo Narcissus
Hippo Narcissus
Mini-dv, Pal, 2:38 mins. Germany 2009
Dir. and Cam: Evelyn Rüsseler
Impromptu Narration: Vaginal Davis
This video miniature was shot on the side of a shoot for "TEDDYS BEASTIARY" (W.I.P) at the Berlin Zoo in January 2008.
The amazing thing about it is that Vaginal and I were actually there with the hippos during our lunch break. The rest of the team was scattered.
And while we were watching the young one started getting our fullest attention – and i got the camera to shoot some fill-in material of the swimming hippos … when Vaginal suddenly started talking next to me. As you can hear on the tape, she at first interrupts herself, but then picks up as i encourage her. And then she comes up with this amazing improvisation on hippo narcissism, mirror stage (Spiegelstadium), attractivity and desire, dependancy … loneliness and desperation … meanwhile the baby hippo starts eating shit coming out of her mom´s anus … and Ms. Davis wraps up elegantly …
It´s like a miracle being so organically in tune. We hadn´t even put the external mic on ….
And then the lunch break was over and we continued with a difficult shooting day.
I had completely forgotten the material and was very pleased when the scene fell into my lap when starting to edit "T.B." (which will be finished by the end of the year). It is a film on the hippo obsession in the Adorno Family that began at the turn of the century in Frankfurt, Germany by taking up a sponsorship for Lieschen. They kept up the habit through the emigration years in New York City where Rosalie, another hippopotamus cow became their adopted animal.
The family members even adressed each other with animal titles à la "Wildschweinkönig Archibald" (Boar King A.) and "Wundernilstute Marinumba" (Wonder Hippo Mother M.).
Evelyn Rüsseler. Born in 1961 in Düsseldorf, Germany, trained to be an anthropologist, 20 years of fieldwork and extensive travel. Research on Posession and Ecstasy Techniques in Non-European Cultures. Experiments in Pinhole Photography and Fine-Art Printing since Childhood. Super 8 Films. Works and lives as an experimental filmmaker in Berlin, Germany. Coming Projects: Teddy´s Beastiary. On Hippo Affinities in the Adorno Family.