line karlstrøm
Line S. Karlstrøm: The Fall, Denmark, 2010, 8:35 min, with Habibi Hansen Karlstrøm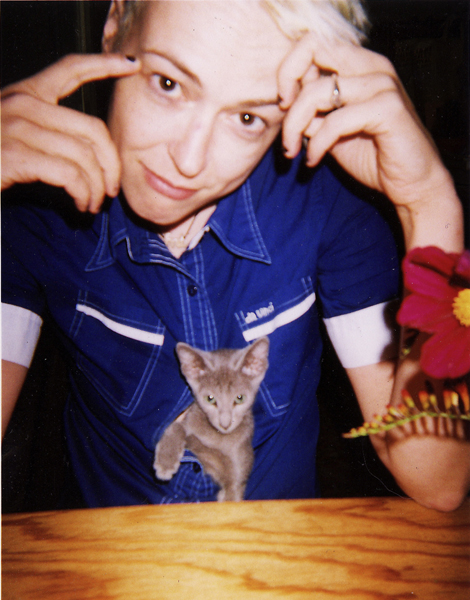 Line S. Karlstrøm: Self-portrait with Habibi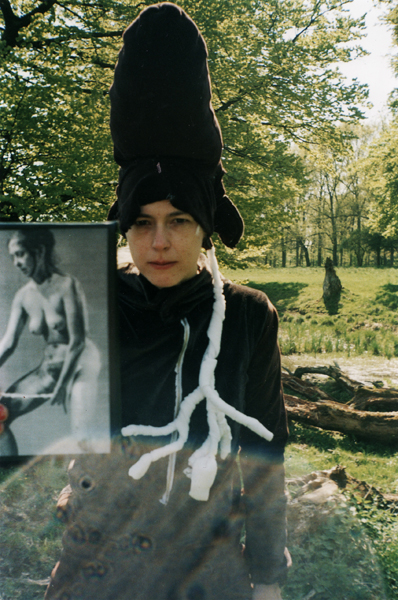 Line S. Karlstrøm: Queens Deers, Denmark, 2004, 4:01 min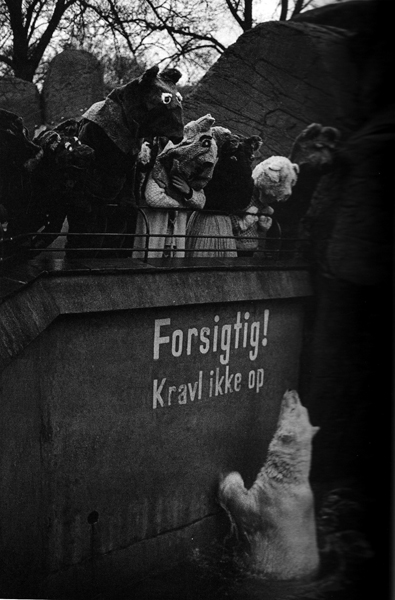 Susanne Merz: Danish theatre group Solvognens as Dyrehæren (from Line S. Karlstrøm's research archive)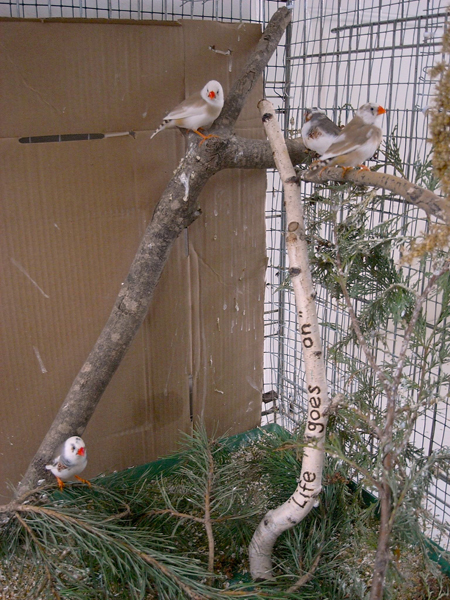 Line S. Karlstrøm: Birds' Life Goes On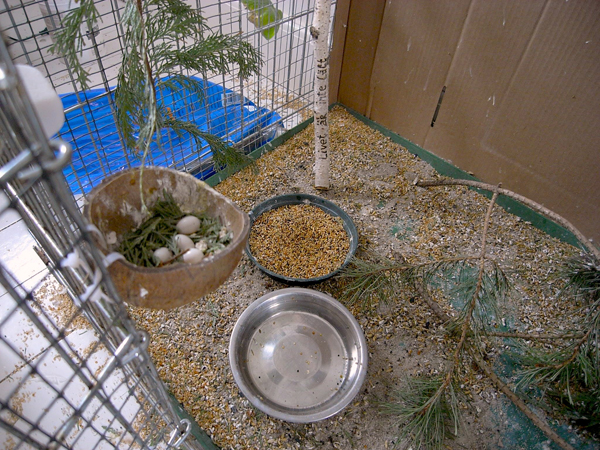 Line S. Karlstrøm: Birds' Life Goes On
Queens Deers
Denmark, 2004, 4:01 min
Queens Deers is a performance in which Line S. Karlstrøm appears as a somewhat deranged elk, running about in the forest and trying to summon the animals of the forest. She is intent on delivering a lecture to them on feminist artists such as Yoko Ono and Meret Oppenheim and drawing attention to these artists' under-representation. "Hoho! Hello The Queens Deers, I'd like to tell you about all the great women artists. I'd like to tell you about Yoko Ono. Hoho, come to me!"
Preparing the performance Queens Deers Line S. Karlstrøm put together a feminist art history lecture hinging on ten works that the artist could imagine that the deers would be able to relate to, including works dealing with hairiness and fur. She made an elk costume that she would wear for the performance based on how she experienced being an artist informed by queer and feminist politics in Denmark in 2004. Feeling like a lonely misfit constantly pestering with the missing feminist perspective made her identify with an elk, and this led to a fantasy that perhaps she would find her peers among the deers in a forest. The video shows Line S. Karlstrøm's attempt to find the animals, but she never finds them and repeatedly insists on telling, but never tells the actual story. Thus the performance is also about failure.
The Fall
Denmark, 2010, 8:35 min, with Habibi Hansen Karlstrøm
The setting for this performance is a forest on a stormy day and the performers are two, Line S. Karlström and the artist's Siamese cat, Habibi. In homage to a photography by Bas Jan Ader, "The Fall (Forest in Sweden)", Line S. Karlstrøm repeats a simple choreography in which she interacts with the cat. The plain positions she performs are double – at first, standing upraised in a position corresponding to the surrounding trees and then, as the second position, falling down into the moss. The main point of this drama takes place in the interaction between the artists' movements and the cat – and in the fears and failures of them both. We witness here a mystical saga about interspecies relationships and a ritual act where tender communication between animal and human becomes visible.
Line Skywalker Karlstrøm
I am I because my little dog knows me.
Gertrude Stein
Line S. Karlstrøm is a performer and visual artist whose work is invested in art-as-life, identity politics and the production of space. Scrutinizing notions of normality and the gendered body, Karlstrøm uses sculpture, performance, drawing techniques and curating in no particular order. She understands art as a mental and physical space in which narratives of values, culture and knowledge can be disturbed and renegotiated. Hence she puts strong emphasis on process, failure and the ephemeral.